Meet our Attorneys: Mike Stapleton
February 11, 2015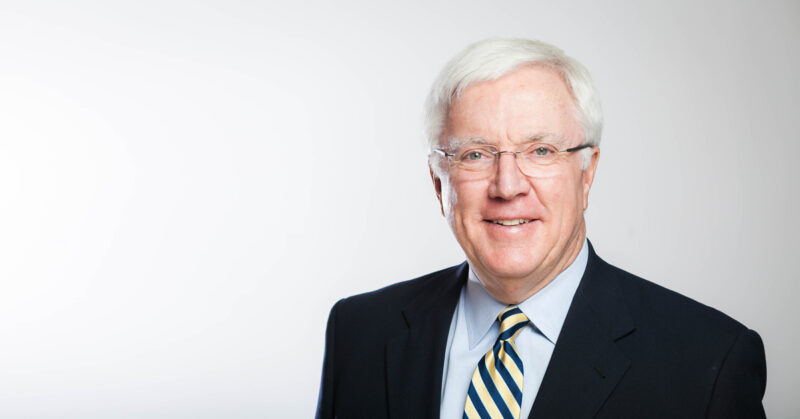 Meet Mike Stapleton, an attorney who isn't afraid of a challenge
At Ball Eggleston, we pride ourselves on the caliber of attorneys we attract to our firm. We all come from different backgrounds and experiences, but work together to form a team that is ready to help solve your legal questions. This post is part of an ongoing series, Meet our Attorneys, so that you can get to know the men and women who work tirelessly to give back to the Lafayette community we know and love so well. Each attorney took some time out of their busy schedule to sit down for an interview and share their story.

Today's attorney focus is on Mr. Mike Stapleton
Mike Stapleton joined our firm in 1972 after studying chemistry as an undergraduate at the University of Kentucky and later being accepted into their graduate law program. With more than 40 years of experience practicing law with Ball Eggleston, Mr. Stapleton is knowledgeable, capable and prepared to answer any questions or concerns you have relating to litigation cases.

His litigation practice has a successful, ​'unafraid of a challenge' history that contributes to the outstanding reputation Ball Eggleston has built since being founded in 1950. Mr. Stapleton has developed a reputation throughout Indiana with both clients and peers for his knowledge and expertise in litigation, especially in personal injury and medical malpractice cases. Indianapolis Monthly lists Mr. Stapleton as an ​"Indiana Super Lawyer" for personal injury; and he is listed in ​"Best Lawyers" in the U.S. for personal injury by U.S. News. Mr. Stapleton currently focuses on these areas of law:
Medical Malpractice
Personal Injury
Wrongful Death
General Litigation
Additionally, Mr. Stapleton is a leader within the community and has remained actively involved with the Lafayette Family YMCA as an active member on their board and involvement in various committees.

Why did you become an attorney?
Mr. Stapleton described his path to becoming a lawyer as a bit unconventional. Growing up he never pictured himself becoming a lawyer, and even as an undergraduate he wasn't sure what he wanted to do with his degree. He studied chemistry as an undergraduate, and considered medical school, dental school, and law school as postgrad options to consider. He ultimately chose to attend law school, and found that he enjoyed the work. He liked it and knew he would become a trial lawyer because it gave him an opportunity to help people and seek justice for wrongs committed against them. Mr. Stapleton knew he could make an impact in their lives by working hard to ensure the correct party would take responsibility for the harm caused to others.

He isn't afraid of the challenging cases, and is one of only two lawyers in the Lafayette community that takes medical malpractice cases, notoriously challenging cases to accept that can take years to see through to the end. He strives to be an advocate for the everyday people and work with patients to do what needs to be done in order to ensure proper justice takes place.

What sets Ball Eggleston apart?
Ball Eggleston has a reputation for completing exceptional work. Mr. Stapleton explained that clients want an attorney who's done this before and knows what they're doing. They can expect that with the team of attorneys at Ball Eggleston.
Knowledge and experience: When clients come to Mr. Stapleton, most likely they're not planning for a crisis, they're in the midst of one. They need you to know what you're doing and trust you with valuable counsel. That matters and is evident throughout Ball Eggleston. Our attorneys are well-trained, proficient, and knowledgeable in their respected practices.
Community focus: Our attorneys make it a priority to be involved in the local Lafayette community. It is an attorney-driven initiative that is seen throughout the firm. Mr. Stapleton shared that the attorneys feel a sense of responsibility to give back to the community.
Making a difference: Ball Eggleston is about making a difference. Mr. Stapleton explained that he is driven to the challenging, tough personal injury cases simply because people need his help. They desperately seek representation when they're looking at crippling financial bills, from a medical ailment or preventable injury. His skills and experience as a lawyer can help ensure they receive fair and sound judgment.
Mr. Stapleton is a valuable team member at Ball-Eggleston; he is an experienced trial lawyer and knowledgeable in litigation. To learn more about Mr. Mike Stapleton, visit his page on our website, /service/michael-stapleton/

We at Ball Eggleston provide honest, hardworking people in the community with fair, knowledgeable, and professional legal service. For 60+ years, our attorneys have worked hard to build a kind of reputation that produces referrals from both peers and clients. With 11 attorneys, our size is intentional — large enough to offer a comprehensive range of legal services, small enough to provide personalized service.
Contact us today if you are seeking legal advice or services. Our team is here to help.
---
Ball Eggleston is located at 201 Main Street, Suite 810 P.O. Box 1535 Lafayette, IN 47902. Contact Ball Eggleston by phone at (765) 742‑9046, by fax at (765) 742‑1966, or by email at info@​ball-​law.​com. For additional information, find Ball Eggleston online at ballegg.local . You can also find us on Facebook.
Disclaimer: The content of this blog is intended to be general and informational in nature. It is advertising material and is not intended to be, nor is it, legal advice to or for any particular person, case, or circumstance. Each situation is different, and you should consult an attorney if you have any questions about your situation.