Meet our Attorneys: John McBride
December 9, 2014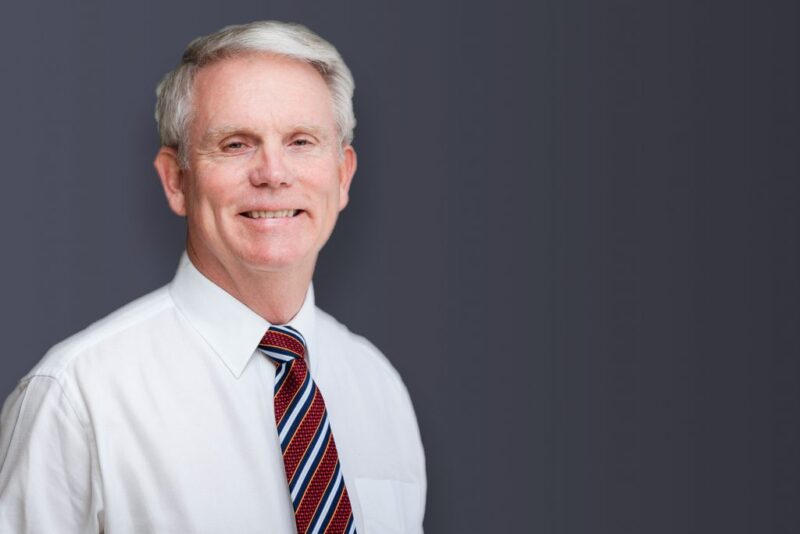 Meet John McBride, a man who values honest communication
At Ball Eggleston, we pride ourselves on the caliber of attorneys we attract to our firm. We all come from different backgrounds and experiences, but work together to form a team that is ready to help solve your legal questions. This post is part of an ongoing series, Meet our Attorneys, so that our community can get to know the men and women who work tirelessly to give back to the Lafayette community we know and love so well. Each attorney took some time out of their busy schedule to sit down for an interview and share their story.

Today's attorney focus is on Mr. John McBride.

John McBride joined our firm in 1968 after studying math at Denison University and law at the University of Cincinnati. He is a 4th generation lawyer and was the first managing partner here at Ball Eggleston. Upon practicing law as a litigator for 25 years, Mr. McBride transitioned to transactional law and now focuses his attention, legal knowledge, and expertise in the following areas:
Individual and Family Estate Planning
Estate Administration
Trusts
Contracts

&

Leases
Corporate and Partnership Law
Municipal Corporations Law
Mr. McBride has accomplished more in his career than practice law; he has also been a leader within the Lafayette community for several decades, including:
Past Board Member and Chairman, Greater Lafayette Health Services, Inc.
Past Board Member, past Chairman, and past Vice-Chairman of Lafayette Home Hospital, Inc.
Past Board Member and past Chairman of North Central Health Services, Inc.
Past Board Member of Greater Lafayette Museum of Art
Past Board Member and past President of Greater Lafayette Museum of Art Foundation Board
Past Board Member of Lafayette Symphony Foundation, Inc.
Past Board Member of Bank One Lafayette,

NA

Past Board Member of Greater Lafayette Commerce
Past Board Member, past Vice-President, past President and Fund Drive Chairman of the United Way of Greater Lafayette
Past Board Member Capital Funds Foundation of Greater Lafayette

Why did you become an attorney?

"I was a math major as an undergrad at Denison University in Ohio when one day I was sitting in class and looked around, realizing these other math majors were a lot better at math than I was. I decided to look for an alternative. With three generations of lawyers in my family, I decided to become the fourth."

Mr. McBride found his calling practicing law and working through legal issues with his clients. He approaches his practice with an open-ear mentality that encourages a conversation in order to find possible solutions and develop a course of action. He recommends an initial hour-long discussion with his clients. He doesn't simply seek to fix a problem, but offers advice and clarity of thought on all legal concerns. Mr. McBride values forthrightness and clear communication with his clients.

Why did you become a lawyer with Ball Eggleston?
"I applied to firms all across Indiana and got responses from several of the firms I applied to. It was the city of Lafayette I fell in love with and that is why I chose to practice with Ball Eggleston."
Mr. McBride loved the community and college town atmosphere he found in Lafayette and has spent his time here immersing himself into the community and becoming an active participant with several organizations.

What sets Ball Eggleston apart?
"We are community-centric. Per person, we have more community involvement and charitable hours than any other firm in Lafayette."
For Mr. McBride and the rest of the attorneys here at Ball Eggleston, community matters. Ball Eggleston is not just a firm to solve problems, but a place to truly serve clients with uninterrupted, personable service. Mr. McBride, finds satisfaction in having one-on-one discussions with his clients where he is able to offer legal information, recommendations, and solutions based on his expertise and knowledge.
Mr. McBride has practiced law for more than 45 years, developing a reputation backed by professional success and community involvement. We at Ball Eggleston are honored to have him within our firm. To learn more about Mr. John McBride, visit his page on our website.
We at Ball Eggleston provide honest, hardworking people in the community with fair, knowledgeable, and professional legal service. For 60+ years, our attorneys have worked hard to build a kind of reputation that produces referrals from both peers and clients. With 11 attorneys, our size is intentional — large enough to offer a comprehensive range of legal services, small enough to provide personalized service.
Contact us today if you are seeking legal advice or services. Our team is here to help.
---
Ball Eggleston is located at 201 Main Street, Suite 810 P.O. Box 1535 Lafayette, IN 47902. Contact Ball Eggleston by phone at (765) 742‑9046, by fax at (765) 742‑1966, or by email at info@​ball-​law.​com. For additional information, find Ball Eggleston online at ballegg.local. You can also find us on Facebook.
Disclaimer: The content of this blog is intended to be general and informational in nature. It is advertising material and is not intended to be, nor is it, legal advice to or for any particular person, case, or circumstance. Each situation is different, and you should consult an attorney if you have any questions about your situation.