Attorney Jack L. Walkey Has Received the Grand Marquis de Lafayette Award
June 1, 2017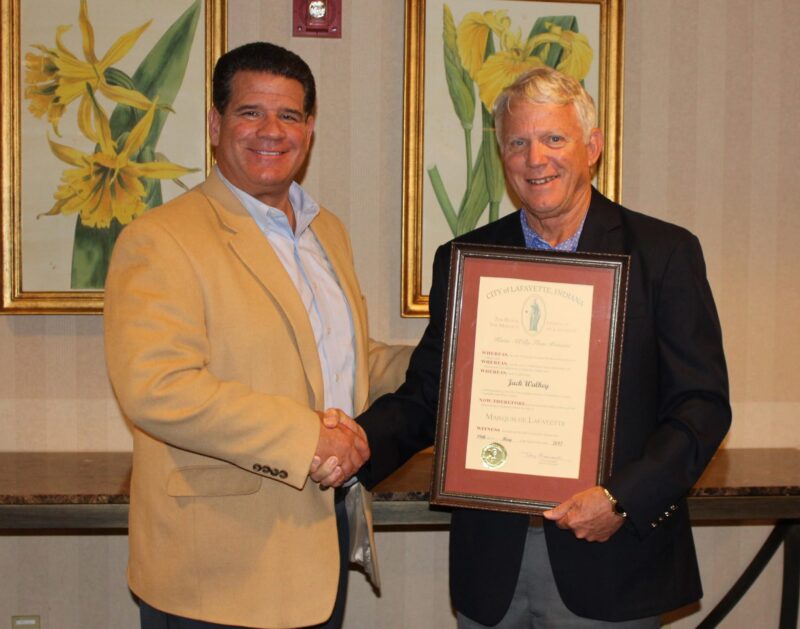 Ball Eggleston PC is pleased to announce that Attorney Jack L. Walkey has received the Grand Marquis de Lafayette Award for his 25 years of service to the Lafayette Police Civil Service Commission.
The Marquis de Lafayette Award is named for Marquis de Lafayette, a French aristocrat and military officer who fought in the American Revolutionary War. He was a hero who helped win the war. The City of Lafayette, Indiana is named after him.
The Marquis de Lafayette Award is the highest award that Lafayette Mayor Tony Roswarski can bestow. The award is given to an individual who goes above and beyond with volunteerism, citizenship, and overall dedication and commitment to the community. The award is not given annually; it is given when the mayor feels an individual is deserving of said award.
Mayor Tony Roswarski stated, ​"The City of Lafayette is truly indebted to Mr. Jack Walkey for his 25 years of service to the Lafayette Police Department Merit Commission. There is nothing more important to a community than public safety. Jack Walkey has played a significant role in shaping the Lafayette Police Department into one of the finest police department's in the country."
About Mr. Walkey
Mr. Walkey is a board certified Indiana estate planning and administration specialist. He is a member of the American Bar Association, the Indiana Bar Association, and Tippecanoe County Bar Association (past president).
He has been a contributing author and frequent speaker at Indiana Continuing Legal Education Forum seminars for attorneys and members of the community on topics relating to real estate, estate planning, and administration.
Mr. Walkey is a member and past president of the Lafayette Police Merit Board and has served the American Cancer Society, American Heart Association, Boys' and Girls' Club, YMCA, and the Community Foundation of Greater Lafayette as a board member.
Learn more about Attorney Jack L. Walkey.
---
Ball Eggleston is located at 201 Main Street, Suite 810 P.O. Box 1535 Lafayette, IN 47902. Contact Ball Eggleston by phone at (765) 742‑9046, by fax at (765) 742‑1966, or by email at info@​ball-​law.​com. For additional information, find Ball Eggleston online at ballegg.local.
You can also find us on Facebook.
Disclaimer: The content of this blog is intended to be general and informational in nature. It is advertising material and is not intended to be, nor is it, legal advice to or for any particular person, case, or circumstance. Each situation is different, and you should consult an attorney if you have any questions about your situation.